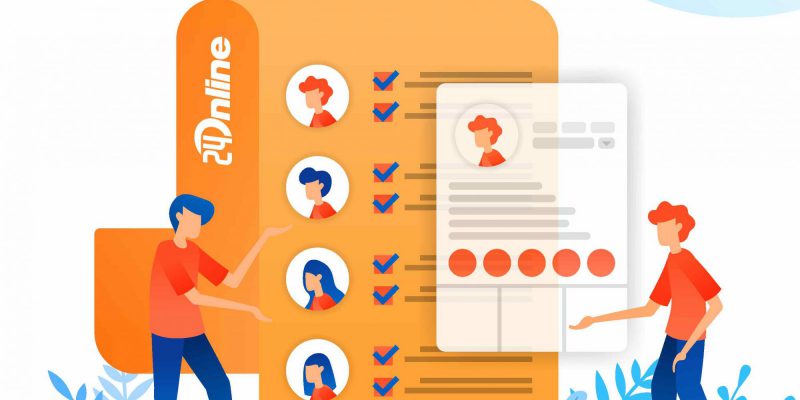 18 Sep

Advice on Applying for a Job at 24Online (and IT Jobs in General)

When we post a job listing, it is not uncommon for us to receive hundreds of job applications. Believe it or not, in spite of the many candidates competing for a job at 24Online, it's often hard for us to find the right person. Follow these tips and you'll have a better chance of being considered for a job with 24Online, and if it doesn't work out with us, these tips might help you win your dream job somewhere else in the field of tech.

Preparing to Apply

Tip #1:  Make sure the job is a good fit for you.

Don't just apply for any tech job because it is available. Read the job posting twice and ask yourself, "Am I qualified?" and "Is this the kind of position I'll be happy with?" If you're not sure, then it is probably not worth applying.

Tip #2:  Read about our company before you apply.

The content on our website will give you a lot of information about the kind of company you will be working for. These kinds of insights can give you an advantage during the application and interview process.

The Job Application Process

Tip #3:  Match your resume to the job.

As much as possible, revise your CV / resume to relate to the job you're applying for. Review your documents from the perspective of the hiring manager who needs to match a candidate to very specific duties. You are applying for THIS job, not just any job, and your CV (and cover letter, if you choose to include one) should reflect your understanding of the position.

Tip #4:  Be honest and specific about your skills.

Don't exaggerate. You do NOT want find yourself in a position of getting hired for a position you are not prepared to handle.

Tip #5:  Be sure your CV / resume is designed for easy scanning.

Bullet points are great! We receive hundreds of applications for any given position, and we don't always have time for careful reading, so style your content so the important stuff stands out.

Tip #6:  Highlight ANY relevant experience.

Many of our applicants are fresh graduates with little experience in their chosen field. In place of experience, applicants often highlight their education and certifications, but for our purposes, proven experience is the best.

We are typically looking to hire applicants with at least 2 years of work experience, but if you have internship or volunteer experience in the industry, be sure to let us know!

The Interview

Tip #7:  Arrive on-time, dressed professionally.

Research our location in advance, so you don't get lost. Call and confirm the destination, if necessary. There is nothing worse than arriving sweaty and late to a meeting of any kind.

Tip #8:  During the interview, answer the questions that are asked.

Try not to go off-topic. It is common for some people to talk too much when they are nervous. Be careful if this is your habit. Take a deep breath, consider your answer, and keep it short and sweet.

Tip #9:  Be honest about your expectations, including salary.

Be clear about your needs, so we can determine if our position is a good match for you. If you have a very specific salary requirement in mind, let us know during the interview, so we're all on the same page.

Tip #10:  Don't cancel without letting us know.

If for some reason you can't attend the interview, please notify our office—even if you have to cancel on the same day. You'd be surprised at how many job candidates don't show up for their interview and don't inform us in advance. This is frustrating for all concerned.

A Few Words About What 24Online is Looking for When We Hire

Candidates with diverse experience sometimes have an advantage. If you have experience working for small businesses or startups, you may be considered a strong candidate. Applicants with only corporate job experience sometimes are too specialized.

Since we are a smaller-sized company, we are often looking for someone who is comfortable wearing many hats, often with experience in various roles. We operate as a team, which means sharing in our successes and our failures. If you prefer working on very small, predictable tasks, alone in a cubicle, you are probably not going to thrive at 24Online.

If you are a "go-getter," you will definitely have an advantage. If you are the type of person who thinks independently, enjoys solving problems, and is comfortable pursuing opportunities when they arise, then we'd like to talk to you. 24Online provides excellent growth opportunities, and the sky is the limit if you are motivated and ambitious.

In Summary

In the end, the traits that serve you in applying for 24Online will help you apply, and ultimately work for, any company in the field of IT. Good organization, clear communication, smart thinking, and a sharp focus on your final objective are some of the most important skills. We wish you the best of luck on your journey to your dream job! Let the games begin, and may the best candidate win.